DePauw Once Again Among USA's Top Producers of Fulbright Recipients
February 12, 2015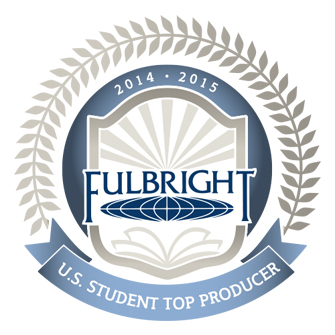 DePauw University is again one of the "Institutions Producing the Most Fulbright Students" in data for 2014-15 published in the latest Chronicle of Higher Education. DePauw had five Fulbright winners, and 26 students applied for the prestigious awards.
It's the fourth consecutive year and the eighth time in the last nine years that DePauw has been listed among the American colleges and universities that produce the most Fulbright Scholars.
May 2014 graduate Ashley M. Conard received a Fulbright U.S. Student scholarship to conduct computational biology research and study in Belgium, while classmates Samuel R. Leist amd Abigail E. Emmert received English Teaching Assistantships to teach English in Turkey. Anna M. Butz received an ETA to teach English in the Republic of Colombia, while Claire E. Jagla, a 2012 graduate of DePauw, used an ETA to teach English in South Korea.
Additionally, Kim Trimble, professor of teacher education at California State University - Dominguez Hills and 1974 graduate of DePauw, received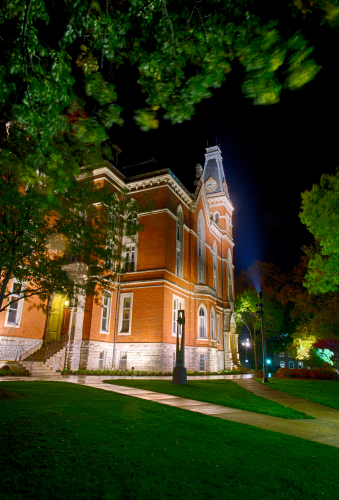 a Fulbright Award -- his third -- to teach in the Master of Arts in Teaching English as a Foreign Language program (M.A. TEFL) of the Graduate School of Education at Bilkent University in Ankara, the capital of Turkey.
Ann Sarkisian '14 was named an alternate ETA to Armenia.
The University was also cited as one of the USA's top producers of Fulbright Fellows in the 2013, 2012, 2011, 2009, 2008, 2007 and 2006 listings.
The Fulbright Program is the U.S. government's flagship international educational exchange program. Since its inception in 1946, the Fulbright Program has provided more than 360,000 participants -- chosen for their academic merit and leadership potential -- with the opportunity to exchange ideas and contribute to finding solutions to shared international concerns. Over 1,800 U.S. students, artists and young professionals in more than 100 different fields of study are offered Fulbright Program grants to study, teach English, and conduct research annually. The Fulbright U.S. Student Program operates in over 140 countries throughout the world.
Read more at the Chronicle's website.
DePauw students and alumni who are interested in applying for Fulbright Awards may contact Humberto Barreto, Elizabeth P. Allen Distinguished University Professor and professor of economics and management, or Kate Knaul, assistant dean of experiential learning and director of national fellowships and awards.
DePauw University ranks #5 among the nation's baccalaureate institutions in the number of students who studied abroad in 2013-14, according to the 2014 Open Doors Report on International Educational Exchange. DePauw is also consistently among the top producers of Teach For America corps members.
Back