Monon Bell Classic to Air Nationally on AXS TV for 12th Time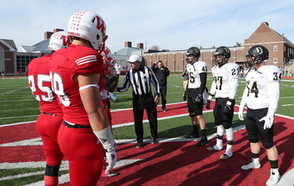 September 13, 2016
The Monon Bell Classic, one of college football's oldest and most storied rivalries between DePauw University and Wabash College, will again be seen nationally on AXS TV. The 123rd game in the series which began in 1890 will take place Saturday, November 12, in Crawfordsville.
It will mark the 12th time AXS TV has televised the game in high definition. This year, for the first time, alumni will also be able to view the game via a live webcast.
Rich Cellini will return as the play-by-play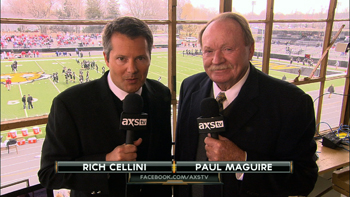 announcer for the rivalry game, while legendary NFL player and broadcaster Paul Maguire will provide color commentary for the sixth consecutive year.
"The presentation executive producer Darrell Ewalt and his team have created is stellar," says Ken Owen '82, executive director of media relations at DePauw. "We know people will gather at alumni parties and in their homes to watch the game in that traditional way, but we're also mindful that many of today's viewers consume programming on the go."
Adds Jim Amidon, chief of staff at Wabash College, "Alumni of our two schools have been enjoying webcasts of regular season games for years,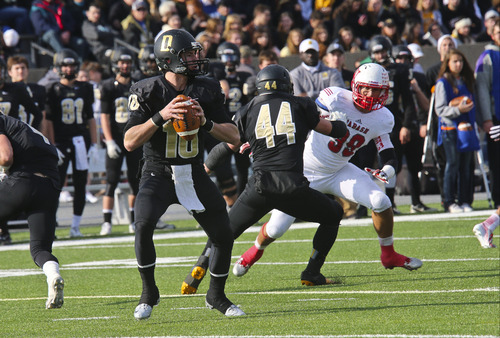 and now we can extend that web streaming service for the Monon Bell Classic. We're delighted to add this new element to this terrific partnership."
AXS TV, the cable industry's leading general entertainment network for live event programming, was launched by entrepreneur Mark Cuban. "As someone who attended college in Indiana and has great love for the state and its traditions, it's a pleasure to bring this very special college tradition to viewers across the country," Cuban noted.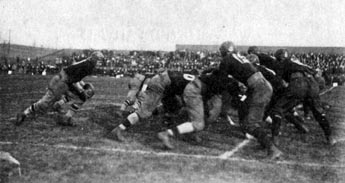 DePauw and Wabash first met on the gridiron in 1890. In 1932, a locomotive bell from the Chicago, Indianapolis and Louisville Railroad Company, also known as the Monon Line, was donated and became the winner's trophy each year. (at left: image from the 1916 game)
In the all-time series, Wabash holds a 60-53-9 lead. Since the Monon Bell entered the rivalry in 1932, Wabash leads, 41-37-6.
The Monon Bell was voted Indiana's best college sports rivalry by fans of ESPN, and is noted in the DVD collection, ESPNU Honor Roll: The Best of College Football, as one of the nation's best annual clashes.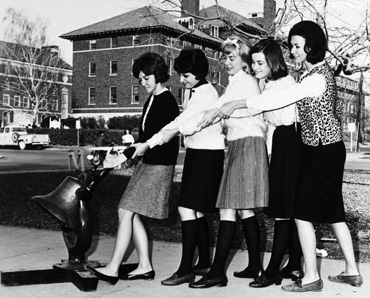 The DePauw-Wabash rivalry was also featured on CBS' Sunday Morning and has twice been spotlighted in Sports Illustrated. The annual DePauw-Wabash clash is also detailed in Rites of Autumn: The Story of College Football, a book by Richard Whittingham. Indianapolis Monthly listed experiencing the game among "50 Things Every Hoosier Must Do." (at right: DePauw co-eds with the Monon Bell, circa 1964)
In November 2013, ESPN's College GameDay included the Monon Bell in a look at great college football rivalries.
To date, 20 contests in the historic series have been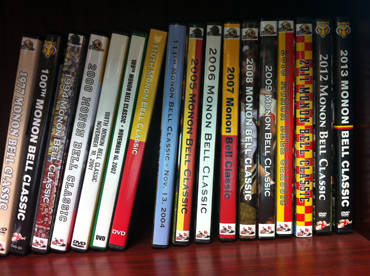 captured on DVD. Available are the DVDs of the 1977, 1984, 1993, 1994 and 2000-15 Monon Bell Classics (supplies of past games are extremely limited and the 1994 game is sold out; the 2008 package is a two-disc set including all 115 "Monon Memories" produced to that date). Order them here.
All 122 games to date are commemorated in video vignettes known as "Monon Memories." Created by Ken Owen '82, executive director of media relations at DePauw, the clips can be found here and on YouTube.
Learn more about the history of the Monon Bell Classic here.

Back