As He Prepares His Commencement Remarks, Vernon Jordan '57 Talks with Fort Wayne Journal Gazette
May 15, 2018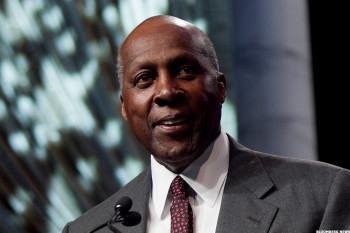 An editorial in this morning's Fort Wayne Journal Gazette focuses on Vernon E. Jordan Jr., the civil rights legend and 1957 graduate, who survived a 1980 assassination attempt in that city. It recounts how local doctors Alfred Stovall and Jeffrey Towles saved his life and that "the attack in Fort Wayne did not deter him from politics," notes the newspaper, "or from his lifelong fight against racism and injustice."
Reached by telephone by the Journal Gazette, "Monday, he was still working on the remarks he's scheduled to deliver this Sunday. Always gracious and civil, Jordan no doubt will find ways to inject optimism into his message to the graduates. But he is alarmed at the turn our nation has taken. He brings up last summer's deadly racial tension in Charlottesville, Virginia, and the decision last week to break the Iran nuclear deal."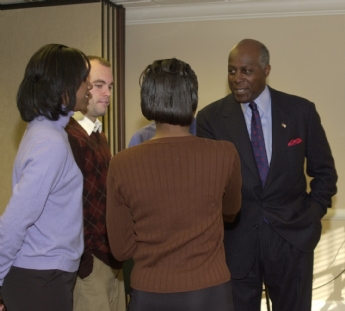 "I'm worried about (the future) like I've never been worried about it before," Jordan, a longtime adviser to President Bill Clinton, tells the newspaper. "War, quality of life. I'm worried about poor people having an opportunity."
"Having wrestled with those issues through the decades, having escaped an early silencing of his voice all those years ago outside a Fort Wayne hotel, Jordan looks to students like those graduating in Greencastle to carry on." (at left: Jordan meets with DePauw students)
The text notes, "This weekend, Jordan will again visit Indiana, to speak to the graduates at DePauw University, where he earned his undergraduate degree in 1957. It will be the third time he's delivered the commencement. 'I liked Greencastle and I had liked the challenge of it,' said Jordan, who was the only black in his class. Of course, he encountered some students, administrators and townspeople who were uncomfortable with his arrival. Among them were his roommates, two white Midwestern boys. 'When they got to 106 Longden Hall, there I was,' Jordan recalled. The three of them 'existed' together for a couple of weeks, he said, before he came back to the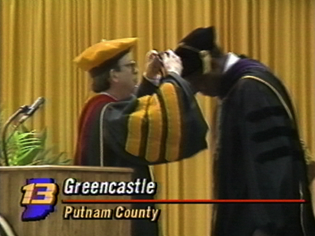 dorm one night and one of them told him, 'We've been talking. You snore,' the roommate told Jordan. 'You fall asleep at your desk when you're studying. Your family sends you cookies. ... You're just like us. So we stopped existing together and started living together,' Jordan said.
"His experiences in bridging the racial divide in a small Indiana town taught him lessons he still puts to use. 'I learned a lot,' Jordan said, 'but also, by my presence, I taught a lot.'"
Access the complete column here.
Information on Sunday's commencement is available here.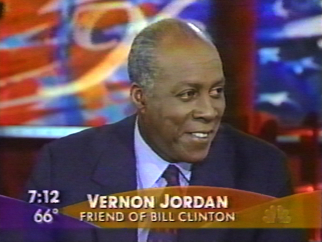 A political science major as an undergraduate at DePauw, Vernon Jordan went on to earn his law degree at Howard University. He holds honorary doctoral degrees from more than 60 colleges and universities in America, including DePauw. He is the author of Vernon Can Read! A Memoir and Make It Plain: Standing Up and Speaking Out.
In December 2009, Jordan was one of eight individuals presented with the Du Bois Medal, the highest honor awarded by the Harvard University Institute of Politics' W.E.B. Du Bois Institute. He's also been honored with the Spingarn Medal, the NAACP's highest honor for achievement, the Trumpet Award, and DePauw's Old Gold Goblet and McNaughton Medal for Public Service. In June 2017 he received the Harvard Law School Center on the Legal Profession's Award for Global Leadership and he was honored by the Anti-Defamation League this February.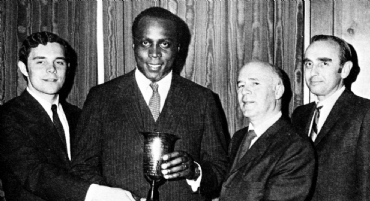 Jordan is the first person in DePauw's 181-year history to be called upon three times as commencement speaker who was not a bishop of the Methodist Church (Francis John McConnell and Edwin Holt Hughes, both addressed DePauw graduates four times [McConnell: 1919, 1924, 1930 and 1947]; [Hughes: 1919, 1924, 1930 and 1947]). William Fraser McDowell spoke in 1902, 1908 and 1920. (at right: Jordan receiving the Old Gold Goblet in 1969)
An advisory member of DePauw's Board of Trustees, Jordan has been a regular visitor to campus since he earned his diploma 61 years ago. He delivered a powerful Ubben Lecture at the October 2016 inauguration of President D. Mark McCoy, which is embedded below.
Source: Fort Wayne Journal Gazette
Back