Vernon Jordan '57 to Receive Anti-Defamation League's Lifetime Achievement Award
January 10, 2018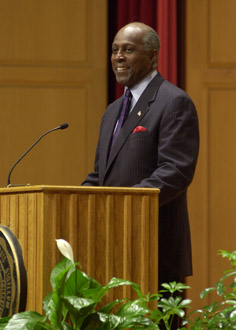 The Anti-Defamation League (ADL) will honor Vernon E. Jordan Jr., a noted attorney and civil rights legend who graduated from DePauw University in 1957, with its Lifetime Achievement Award. Jordan will be honored at the ADL's 21st Annual Jurisprudence Luncheon in Atlanta, Georgia on February 28. The event pays tribute each year to lawyers who have, over the course of their careers, dedicated themselves to securing justice and fair treatment for all people.
Jordan, senior counsel with Akin, Gump, Strauss, Hauer & Feld, will be recognized "for his enduring legacy of civil and human rights leadership," notes the organization.
"Mr. Jordan is a most worthy recipient of this Award," states Bernard Taylor Sr., a senior partner with Alston & Bird, who is an ADL board member, co-chair of the luncheon, and a prior recipient of the Lifetime Achievement Award. "His record of courage and service with the National Urban League, United Negro College Fund, Southern Regional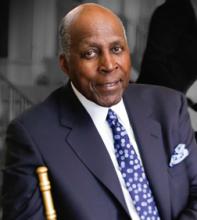 Council, and U.S. Office of Economic Opportunity, National Association for the Advancement of Colored People, and numerous presidential appointments and civil service are exemplary of the ADL values and mission."
Read more here.
As announced in November, Jordan will deliver the commencement address to DePauw's Class of 2018 on Sunday, May 20, in Holton Memorial Quadrangle. An advisory member of DePauw's Board of Trustees, Jordan has been a regular visitor to campus since he earned his diploma 60 years ago. He delivered a powerful Ubben Lecture at the October 2016 inauguration of President McCoy.
Jordan was also on campus in November 2011 to introduce his good friend, America's 42nd president, Bill Clinton, who delivered an Ubben Lecture before 5,000 people in the Lilly Center. Jordan is also a partner at Lazard Frères & Co. LLC in New York and senior managing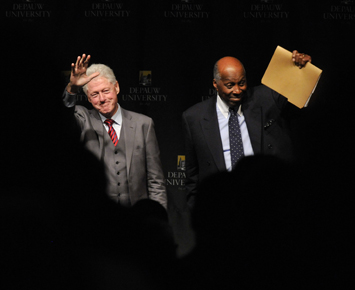 director of Lazard Group LLC.
A political science major as an undergraduate at DePauw, Jordan went on to earn his law degree at Howard University. He holds honorary doctoral degrees from more than 60 colleges and universities in America, including DePauw. He is the author of Vernon Can Read! A Memoir and Make It Plain: Standing Up and Speaking Out.
In December 2009, Jordan was one of eight individuals presented with the Du Bois Medal, the highest honor awarded by the Harvard University Institute of Politics' W.E.B. Du Bois Institute. He's also been honored with the Spingarn Medal, the NAACP's highest honor for achievement, the Trumpet Award, and DePauw's Old Gold Goblet and McNaughton Medal for Public Service. In June 2017 he received the Harvard Law School Center on the Legal Profession's Award for Global Leadership.
In his 1993 commencement address at DePauw, Jordan declared, "DePauw expanded my mind, broadened my horizons, lifted my sights, prepared me to serve and to lead and nurtured my growth and maturity. I made lasting friendships here. If I had my life to live over again, I would return to this place."
Back