Monon Bell Telecast Parties Scheduled in 53 Cities Saturday
November 6, 2006
List of Alumni Telecast Parties
Also: HDNet to Televise 113th Monon Bell Classic
Also: Ticket Information
Also: Order Your Monon Bell DVD Here
November 6, 2006, Greencastle, Ind. - Parties are now set in 53 cities across the nation for Saturday, when alumni of DePauw University and Wabash College will gather to watch the 113th Monon Bell Classic. The game, which kicks off at 1 p.m. Eastern time, will be televised nationally by HDNet. Some tickets remain for the contest, which will be played in Crawfordsville this year.

[Download Video: "See The Ballad of the Monon Bell" 9346kb]

[Download Audio: "Hear The Ballad of the Monon Bell" 2900kb]
For a complete listing of alumni telecast parties, click here. You'll find ticket information here.

[Download Video: "1932 Monon Memory" - 3518kb]
To receive the game on HDNet, viewers must have an HDTV and high-definition tuner box. Viewers must also subscribe to the high-definition package offered by their cable or satellite provider. Learn more in this previous story.

[Download Video: "2004 Monon Memory" - 7774kb]
Viewers on the DePauw campus and in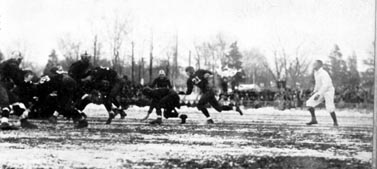 the Greencastle community can see the game live on cable TV. The student television operation, D3TV, will carry the HDNet feed, as will the city's public access cable channel. Both can be found on channel 3. Of course, the cable feeds will not be in high definition.
Heading into the 113th meeting, Wabash holds a slim lead in the all-time series, 52-51-9. The two teams first clashed on the gridiron in 1890 and have met every year since 1911. This year's contest marks the 75th since the Monon Bell was introduced in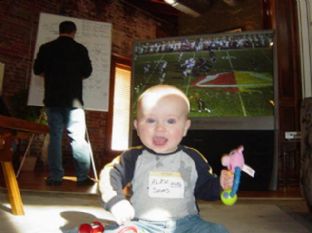 1932 as the prize for the annual rivalry. In games played for the Bell, DePauw leads the rivalry 35-33-6.
[Download Video: "1981 Monon Memory" - 5633kb]
Voted Indiana's best college sports rivalry by fans of ESPN, the Monon Bell Classic will again be the subject of a commemorative DVD. The disc will contain every play of the contest, plus a treasure trove of historic and special features, and is available for pre-order for a special "early bird" price of $12 (plus $3 shipping; Indiana residents will also be charged 6% sales tax). The DVD will sell for $15 after November 10. Read more about the disc, which will contain a number of "Monon Memories" of past games, here.
[Download Video: "1942 Monon Memory" - 3396kb]
Rites of Autumn: The Story of College Football, a book by Richard Whittingham, features the Monon Bell rivalry among its 320 pages. The DePauw-Wabash rivalry was also highlighted in an ESPN program that accompanied the book's release.
Access DePauw's Monon Bell Web page here.
Back