Crain Lecture Series Welcomes Pollster Taren Stinebrickner-Kauffman, November 28
November 21, 2006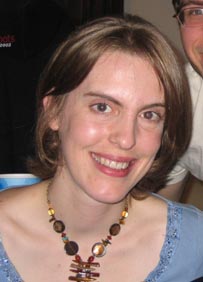 November 21, 2006, Greencastle, Ind. - In the wake of an historic election season, the Gertrude and G.D. Crain Jr. Lecture Series is bringing an expert on polling and campaign strategy to the DePauw University campus. Taren Stinebrickner-Kauffman, an analyst at the Mellman Group, will speak Tuesday, November 28 at 4:15 p.m. in the Pulliam Center for Contemporary Media's Watson Forum. The event is free and open to all.
Stinebrickner-Kauffman has conducted qualitative and quantitative research for highly targeted Democratic campaigns ranging from statehouse to gubernatorial races, as well as for national environmental and education issue campaigns. The Mellman Group is a polling and consulting firm whose clients include leading political figures, Fortune 500 companies, and the nation's most important public interest groups.
Prior to joining Mellman, Stinebrickner-Kauffman served as deputy field director for Lois Murphy's 2004 congressional campaign, which was one of the nation's most highly targeted races.
Stinebrickner-Kauffman graduated summa cum laude and Phi Beta Kappa with a degree in mathematics from Duke University in 2004. While an undergraduate, she conducted extensive original research on the impact that prisons have on redistricting, finding that counting prison inmates as residents of the districts in which they are incarcerated noticeably dilutes votes in urban, minority, and Democratic areas, to the benefit of rural white Republican voters. This research led to a 30,000-word article in the Virginia Journal of Social Policy and the Law and op-eds in the Christian Science Monitor and several other newspapers.
Taren Stinebrickner-Kauffman is the daughter of DePauw professor and chair of political science Bruce Stinebrickner.
Endowed by Rance Crain, president of Crain Communications and a member of DePauw's Class of 1960, The Gertrude and G.D. Crain Jr. Lecture Series honors Mr. Crain's parents. In October, David Keene, chair of the American Conservative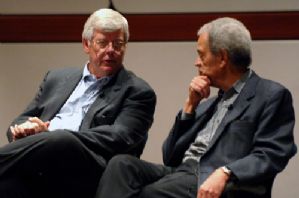 Union, and Roger Wilkins, a noted civil rights leader, historian, and Pulitzer Prize-winning journalist, previewed the midtern elections (the two men are seen in photo at left). Previous Crain Lecturers have included: Wall Street Journal reporter and 1996 DePauw University graduate Aaron Lucchetti, who discussed his experiences covering Hurricane Katrina; Samantha Power, author of A Problem from Hell: America and the Age of Genocide; Emily Wax, Africa Bureau Chief of the Washington Post, and her husband, Raymond Thibodeaux, who also covers the region for Cox News, Voice of America and the Boston Globe; political analyst Charlie Cook; military sociologist Charles Moskos; historian Douglas Brinkley, author of Tour of Duty: John Kerry and the Vietnam War; and Joe Trippi, who managed Howard Dean's presidential campaign.
Back