Larry King Live Sr. Producer Sarah Shepherd '97 On Campus Wednesday
March 9, 2007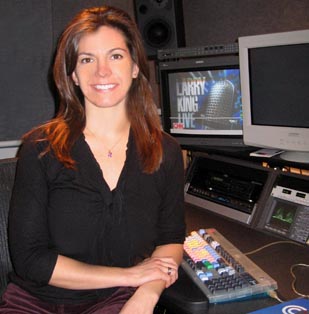 March 9, 2007, Greencastle, Ind. - Sarah Shepherd, senior producer for CNN's Larry King Live and 1997 graduate of DePauw University, returns to her alma mater Wednesday, March 14, as a guest of the Gertrude and G.D. Crain Jr. Lecture Series. The program, moderated by Ken Bode, Eugene S. Pulliam Distinguished Visiting Professor of Journalism at DePauw, begins at 4:15 in the Pulliam Center for Contemporary Media's Watson Forum. The public is invited to attend this free event.
Based in CNN's Washington, D.C. bureau, Shepherd has been senior producer of the cable network's highest-rated program since August 2001. Among her duties, she has produced and coordinated live and taped programs covering politics, celebrity interviews, in-depth profiles, breaking news and topical discussions.
Programs that Shepherd has overseen included guests such as former presidents George H.W. Bush and Jimmy Carter, Sir Paul McCartney, and an exclusive with "Deep Throat" from the Watergate
case, Mark Felt. On her watch, Larry King Live has also covered Hurricane Katrina and its aftermath and the anniversary of the 9/11 terror attacks.
In 2006, Shepherd was the recipient of the American Women in Radio and Television's "Gracie Award" for her work on an hour-long program that featured King interviewing Melanie Bloom, the widow of NBC's David Bloom. In 2003, Shepherd won a "Gracie" for King's interview with the former first lady of Texas, Nellie Connally.
Shepherd, who majored in communication at DePauw, joined CNN in 1997 as a researcher/production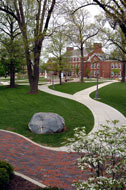 assistant in the documentary unit "Impact." That year, she was nominated for a CableACE award for Death of a Princess, an hour-long documentary on the death of Princess Diana, which was produced in a 24-hour period as the news broke.
In 1998, Shepherd was promoted to assistant producer for CNN NewsStand, the network's weekly news magazine program. Highlights included investigating and cultivating sources as the Monica Lewinsky scandal broke. Shepherd was among a group of CNN journalists who received a Joan Shorenstein Barone award and National Headliner award for the Democracy in America series.
Endowed by Rance Crain, president of Crain Communications and a member of DePauw's Class of 1960, The Gertrude and G.D. Crain Jr. Lecture Series honors Mr. Crain's parents. Previous Crain Lecturers have included: Tim McCaughan, senior White House producer for CNN and 1993 graduate of DePauw University; David Keene, chair of the American Conservative Union, and Roger Wilkins, a noted civil rights leader, historian, and Pulitzer Prize-winning journalist;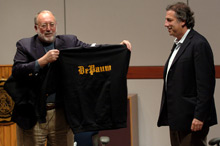 Father Richard P. McBrien, Crowley-O'Brien Professor of Theology at the University of Notre Dame and a consultant to ABC News for papal events; political analyst Charlie Cook; Wall Street Journal reporter and 1996 DePauw graduate Aaron Lucchetti; veteran political columnist Jack Germond; Samantha Power, author of A Problem from Hell: America and the Age of Genocide; Emily Wax, Africa Bureau Chief of the Washington Post, and her husband, Raymond Thibodeaux, who also covers the region for Cox News, Voice of America and the Boston Globe; historian Douglas Brinkley, author of Tour of Duty: John Kerry and the Vietnam War; and Joe Trippi (pictured above right with Prof. Bode), who managed Howard Dean's presidential campaign.
Back