Katrina Devastation "Unlike Anything I'd Seen Before," Wall Street Journal's Aaron Lucchetti '96 Says
February 9, 2006
February 9, 2006, Greencastle, Ind. -

[Download Audio: "Amazing Stories" - 146kb] "There were a lot of amazing survival stories, not only of (people) rescuing other people but of rescuing (themselves)," Aaron Lucchetti, staff reporter of the Wall Street Journal and a 1996 graduate of DePauw University, told an audience at his alma mater this afternoon. Lucchetti discussed "Covering Katrina" in a Gertrude and G.D. Crain Jr. Lecture. The Journal had about fifteen reporters along the Gulf Coast for more than three months to cover the wrath and aftermath of Hurricane Katrina. Lucchetti shared his experiences with students and faculty members in in Watson Forum of the Pulliam Center for Contemporary Media.
"People resorted to things that were kind of amazing" as the flood waters began to pour into their homes, Lucchetti says.

[Download Audio: "Refrigerator Doors" - 452kb] "I remember talking to people who would take the doors off their refrigerator as they were floating around in the kitchen -- they would somehow get the 'fridge door off -- and they would use that as a raft and basically, you know, paddle to get to safety. There are people who did that with trees and with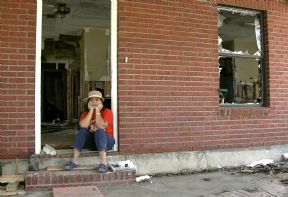 other things. And there were people who swam. I mean, the water was disgusting and pretty dangerous, but there were people who swam 2-3 blocks or walked a half a mile in waist deep or higher water."
The reporter described witnessing the "disorderly" evacuation process, where people waited -- sometimes for several days -- for a bus to come and take them from the flood-ravaged areas. As they waited, he says many people were pushed around by guards and racial tensions grew. Lucchetti says many of the evacuees were "skeptical" about leaving what little they owned behind, especially since many had no money for the journey and no place to stay or friends to communicate with once they arrived. And where would they wind up? Husbands and wives were often put on two separate buses heading to two separate locations. (photo above right: Tim Leverett/American Red Cross)
Lucchetti says if he interviewed someone, odds were he would not see them again, and communication was problematic.

[Download Audio: "Getting Change" - 532kb] "It was unlike anything I'd seen before... What was surprising was sometimes the old fashioned forms of communication worked better than anything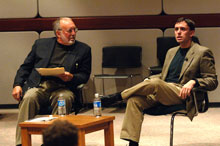 else. Cell phones were almost entirely unreliable 'cause some of the towers had gone down. But a lot of pay phones worked. So in reporting, several times the only way I could really get in touch with New York or with the Atlanta bureau that was kind of coordinating coverage was to ask rescue workers to make change for $1 or $5 so I could make a pay phone call. And then I would read my copy to an editor, as quickly and as clearly as I could, until the time ran out."
Lucchetti says the mobility of the people he was covering and his inability to follow up by phone made the job of fact-checking problematic and often impossible. He recalled covering an accident involving one of the evacuation buses in which one person was killed.

[Download Audio: "Following Up" - 497kb] "I got it from the police and that person's name went in the paper. But there was no way to check with that person's family or anything like that, which we would almost always do," Lucchetti recalls. Verifying the information could not be done, "because no one knew where he was or who his family was. The police department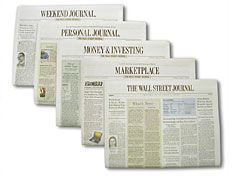 was totally overwhelmed; they didn't have anything on it yet. So that decision had to get made: Do we hold the story until we can find some next of kin, or do we report what the police tell us? In that case, we did report what the police told us and it turned out to be okay, it was accurate. But I felt nervous about that, because I hate to move forward with something like that -- something so serious, someone's life -- and not check it with a family member."
On September 1, 2005, three days after Katrina hit New Orleans, the city's mayor took to a local radio station and accused the federal government of inaction and called on President Bush to "do something."

[Download Audio: "A Desperate Cry" - 520kb] "It helped change the opinion of what was happening on the ground in New Orleans," Lucchetti says. "It was such a stark contrast to 9/11 and the image of Rudy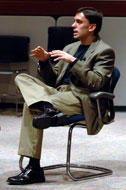 Giuliani and others -- Gov. Pataki and George Bush -- coming and being in control of the rescue efforts. This was such a stark contrast. Ray Nagin was hardly seen in the first two or three days after the hurricane and when his voice came out on the radio and was rebroadcast around the world, everyone wanted to hear what he had to say and his message was really dire, it was really desperate, and it was without any pretense of political positioning. It was just from the heart, and I don't think it was surprising that Bush came down right away." In fact, the president left the White House the next morning and toured the hurricane area.
A graduate of DePauw's Media Fellows Program, as a student Aaron Lucchetti spent two weeks working with an editor from the Wall Street Journal who came to campus as a Kilgore Counselor. The visitor encouraged Lucchetti to apply for an internship at the Journal, and the rest is history. After covering the auto industry in Detroit for as part of his Journal internship, Lucchetti enrolled in a graduate journalism program at Northwestern University. A scant two weeks later, the newspaper called him back with a job offer.

[Download Audio: "A Flexible Mind" - 403kb] "The beat they offered me was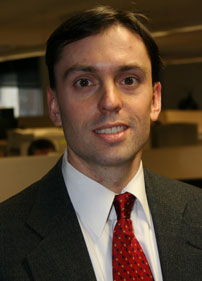 the commodities beat, covering pork bellies and corn futures and gold and metal," he recalls. "I didn't know much about that; I didn't know that much about finance or economics -- I had one good econ class at DePauw that Dr. (Mary) English (Dixon, Q.G. Noblitt Professor of Economics and Management) prepared me well for. But the Journal at that time, and the editor who hired me, wasn't as concerned about 'Do you know the subject matter?' as much as just 'Are you willing to take a new subject and learn it and write about it?'" Lucchetti was later assigned the mutual funds beat, which, "after commodities... seemed like not that big of a stretch," he told his DePauw audience.
Aaron Lucchetti's byline appears regularly in the Wall Street Journal, and the Los Angeles Times featured him as one of "30 Reporters Under 30." Moderator Ken Bode reminded the crowd that, as a student at DePauw, Lucchetti was both editor of the student newspaper and news anchor on the student television outlet, experiences that have served him well.

[Download Audio: "Doing Both" - 75kb] "Print reporters go on TV quite a bit now, so it was good to have some on-camera experience."
Endowed by Rance Crain, president of Crain Communications and a member of DePauw's Class of 1960, The Gertrude and G.D. Crain Jr. Lecture Series honors Mr. Crain's parents. Previous Crain Lecturers have included: award-winning reporter Jerry Mitchell and civil rights activist Rita Bender, the widow of slain civil rights worker Michael Schwerner; Adam Clymer, retired chief Washington correspondent for the New York Times; Samantha Power, author of A Problem from Hell: America and the Age of Genocide; Emily Wax, Africa Bureau Chief of the Washington Post, and her husband, Raymond Thibodeaux, who also covers the region for Cox News, Voice of America and the Boston Globe; Father Richard P. McBrien, Crowley-O'Brien Professor of Theology at the University of Notre Dame and a consultant to ABC News for papal events; political analyst Charlie Cook; FactCheck.org director Brooks Jackson; veteran political columnist Jack Germond; military sociologist Charles Moskos; historian Douglas Brinkley, author of Tour of Duty: John Kerry and the Vietnam War; David A. Keene, chairman of the American Conservative Union; and Joe Trippi (seen in photo at left), who managed Howard Dean's presidential campaign.
Back