Lee Hamilton '52 & Richard Lugar "Had a Hand in Saving the World"
February 14, 2016
"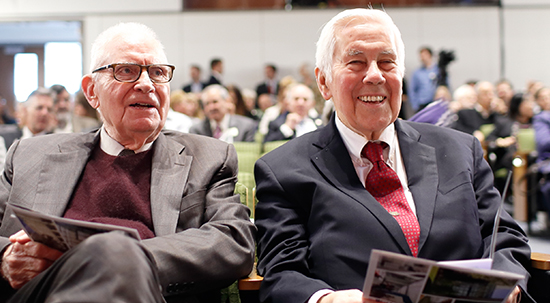 To East Coast elites, diplomats, and think-tank fellows, Richard Lugar and Lee Hamilton must seem like outliers," begins an Indianapolis Monthly feature. "How could such towering figures in U.S. foreign policy hail from a farm state where folks are more concerned about the height of the corn than the height of international intrigue? And how did Representative Hamilton, a Democrat, and Senator Lugar, a Republican, manage to get along so well for so long?"
Adam Wren's piece notes that Hamilton, a 1952 graduate of DePauw University, and Lugar, "modeled an Indiana approach to government for the nation and the world: even-keeled, pragmatic, bipartisan, and wise."
The article is part of the magazine's 2016 Indiana Bicentennial coverage. Hamilton and Lugar are included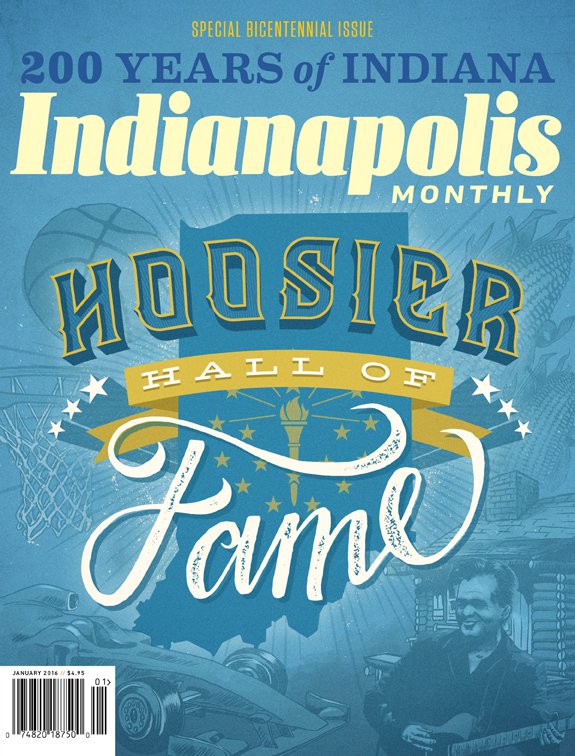 on a list of 200 "Hoosier Hall of Fame" selections.
Wren notes, "Between Lugar's diplomatic missions to Russia to help deactivate some 13,000 nuclear warheads, and Hamilton's investigations into covert Iranian arms transactions, the two men literally had a hand in saving the world. And the congressional record is but a chapter in their respective careers: In the 1960s and '70s, Lugar's signature policy achievement as mayor of Indianapolis -- Unigov -- set the stage for the city's future economic growth, and starting in 2002, Hamilton co-chaired the 9/11 Commission, tasked with conducting a definitive investigation and assessment of the deadly 2001 terror attacks."
Access the feature at the publication's website.
A history major and basketball standout at DePauw, Lee Hamilton served 34 years in the U.S. House of Representatives. He is now director of the Center on Congress at Indiana University, a Distinguished Scholar at the Indiana University School of Global and International Studies, and a Professor of Practice in the IU School of Public and Environmental Affairs.
He was one of five individuals inducted last summer into the Capital One Academic All-America® Hall of Fame, as selected by the College Sports Information Directors of America (CoSIDA).
Called "Mr. Integrity" by Newsweek, Hamilton received the Churchill Award for Statesmanship, the Eisenhower Medal for exceptional leadership, the Distinguished Service Award from the U.S. Association of Former Members of Congress, and the Franklin and Eleanor Roosevelt Institute Freedom From Fear Award, among many other honors. He's also a member of the Indiana Basketball Hall of Fame and DePauw's Athletic Hall of Fame.
Congressman Hamilton has been a frequent visitor to DePauw over the years and delivered an Ubben Lecture on March 15, 2011 (embedded below) and the commencement addresses in 1971 and 1998.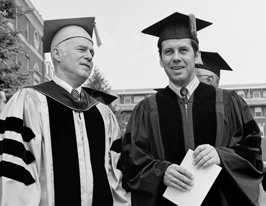 Richard G. Lugar, who was mayor of Indianapolis before being elected to the U.S. Senate, has also made a number of visits to DePauw over the years.
He gave the 1972 commencement address (and was awarded an honorary doctorate), received the McNaughton Medal for Public Service in 2001, and delivered an Ubben Lecture in 2004. (at left: Lugar with DePauw's 16th president, William E. Kerstetter, on commencement day in 1972)
Back