SUMMER/FALL 2015 EVENTS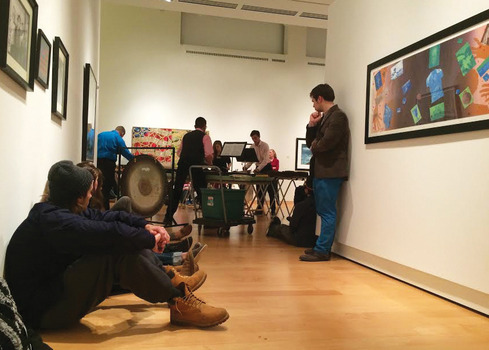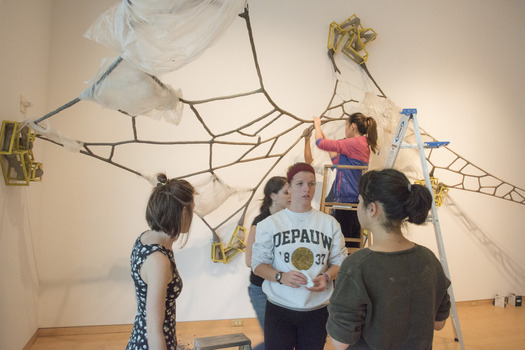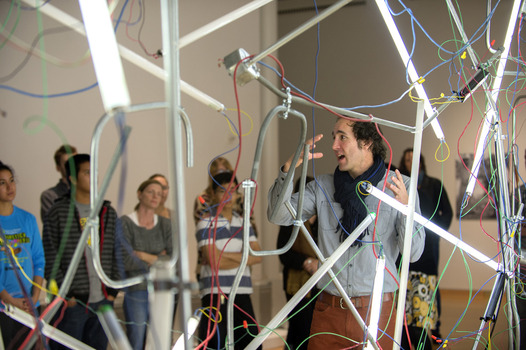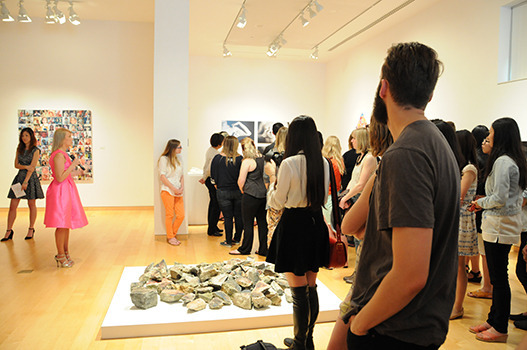 The Peeler Art Center galleries are proud to present a variety of free programs for students, faculty, staff, and the public each year. These events range from workshops and hands-on demonstrations to lectures and performances. All events are free and open to the public unless otherwise noted. For more information about a particular event, including special accommodations, please contact Misti Scott: mscott@depauw.edu or 765-658-4336.


"Host" and "Connectivity: Technology and the Natural World" are examples of recent work with Tom Giblin. The formation of a observational station in both installations puts the viewer above and beyond the layer of obscuring panels and the lower map-like grid of a diminutive landscape.
Artist Lecture with Claudia Esslinger
Wednesday, October 14, 2015, 4:15pm
Peeler Art Center, Auditorium

As a visual artist, Professor Claudia Esslinger brings to her video and installation work an interest in visceral, sculptural props and experimental forms. Interactive technologies support her focus on human and environmental relationships. She often collaborates with dancers, musicians, writers and scientists to develop new work which has been shown in film festivals, live performance and gallery installations both nationally and internationally.

Professor Esslinger has taught at Kenyon since 1984, first as a printmaker and then transitioning into video art, digital imaging, new media and installation. Originally from Long Island, N.Y., Esslinger taught for two years at Denison University before coming to Kenyon. She holds an MFA from the University of Minnesota (1981) and BA from Bethel College, St. Paul (1976). She is the recipient of seven Ohio Arts Council Individual Excellence Awards and a New Forms Regional Grant (NEA).

Urban Weather Prairies Symphonic

Studies in D, 2009

Reed, wood, data

16 x15 x 15 feet

Artist Lecture with Nathalie Miebach
Thursday, October 29, 2015, 4:15pm
Peeler Art Center, Auditorium

Nathalie Miebach's work focuses on the intersection of art and science and the visual articulation of scientific observations. Using the methodologies and processes of both disciplines, she translates scientific data related to astronomy, ecology and meteorology into woven sculptures. Her method of translation is principally that of weaving – in particular basket weaving – as it provides her with a simple yet highly effective grid through which to interpret data in three-dimensional space. By staying true to the numbers, these woven pieces tread an uneasy divide between functioning both as sculptures in space as well as instruments that could be used in the actual environment from which the data originates. Her recent TED talk, delivered in 2011, can be viewed online by clicking here.


Japanese woodblock print, DePauw University permanent art collection

Art and Transformation: Highlights from the Permanent Art Collection (Curated by Taylor Zartman '15): reception
Tuesday, November 3, 2015, 11:40am
Peeler Art Center, Second Floor Exhibition Case

Taylor Zartmen '15, Arthur E. Klauser Education and Community Outreach Intern, will speak briefly about artworks she recently curated from the DePauw University Permanent Art Collection in conjunction with ArtsFest 2015: Art and Transformation. Snacks will be provided following the event.

Kalia Beach
Dead Sea, 2006
Archival inkjet print on photo rag paper
Yaakov Israel: A Lunch and Lecture with Professor O'Dell and the Center for Spiritual Life
Friday, November 6, 2015, 11:40am
Peeler Art Center, University Gallery (upper level)

Please join Cindy O'Dell, Professor of Art & Art History, along with staff from the Center for Spiritual Life, for a discussion centered on the artistic as well as spiritual qualities found in Yaakov Israel's photographs. Snacks will be provided following the event in the Peeler lobby.


Daniel Chester French (1850-1931)
Abraham Lincoln, 1916
Bronze maquette
DePauw University Permanent Art Collection
1934.1.1

A Monument in Miniature: DePauw's Abraham Lincoln
Wednesday, November 11, 2015, 11:40am
Peeler Art Center, Auditorium

In 1934 DePauw's thirteenth President, Bishop G. Bromley Oxnam, gifted a bronze maquette for the Lincoln Memorial in Washington, DC to the University. Created by one of the most celebrated sculptors of the early 20th century, Daniel Chester French's bronze maquette was intended to be "an ever-present reminder of DePauw's ties with Lincoln and the [Civil War] years." Join Director/Curator Craig Hadley for a lecture which explores the history of this fascinating object, including efforts to conserve the statue and return it to public exhibition after more than 30 years in storage.

Guerrilla Girls Lecture with Curator Neysa Page-Lieberman
Wednesday, November 18, 2015, 4:15pm
Peeler Art Center, Auditorium

Not Ready to Make Nice, a major presentation of the Guerrilla Girls, illuminates and contextualizes the important historical and ongoing work of these highly original, provocative and influential artists who champion feminism and social change. Focusing primarily on recent work from the past decade, the exhibition features rarely shown international projects that trace the collective's artistic and activist influence around the globe. In addition, a selection of iconic work from the 80's and 90's illustrates the formative development of the group's philosophy and conceptual approach to arts activism. The exhibition is further punctuated by documentary material including ephemera from famous actions, behind-the-scenes photos and secret anecdotes that reveal the Guerrilla Girls' process and the events that drive their incisive institutional interventions. Visitors can peruse the artists' favorite "love letters and hate mail," and are invited to contribute their own voices to multiple interactive installations. This multimedia, expansive exhibition illustrates that the work of the anonymous, feminist-activist Guerrilla Girls is as vital and revolutionary as ever.

Not Ready to Make Nice is curated by Neysa Page-Lieberman, director and curator of the Department of Exhibitions, Performance and Student Spaces, and adjunct faculty member in Visual Arts Management at Columbia College Chicago.