Fall 2018 Events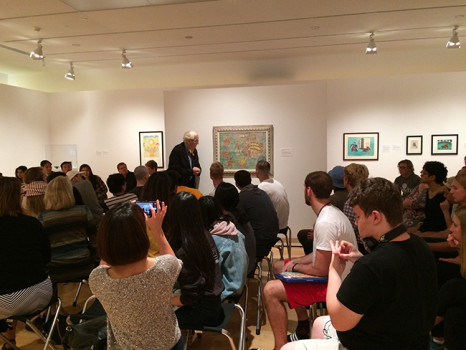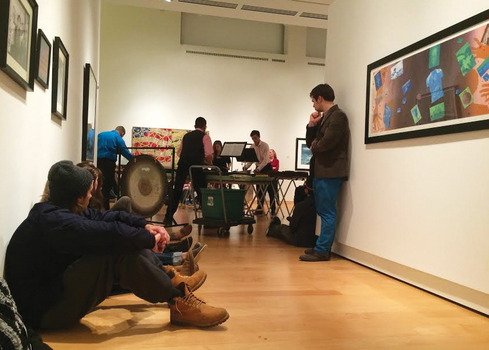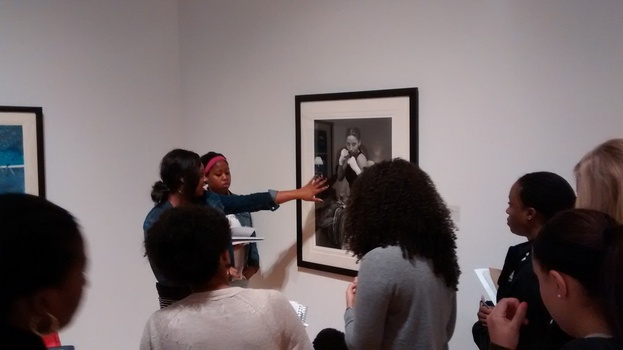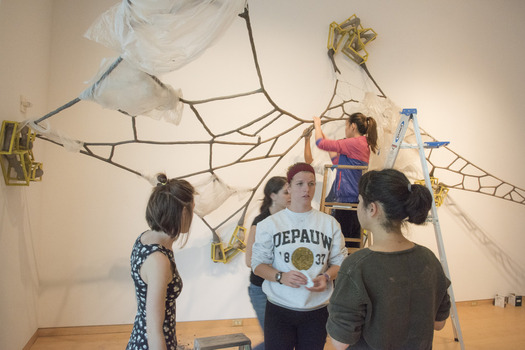 The Peeler Art Center galleries are proud to present a variety of free programs for students, faculty, staff, and the public each year. These events range from workshops and hands-on demonstrations to lectures and performances. All events are free and open to the public unless otherwise noted. For more information about a particular event, including special accommodations, please contact Misti Scott: mscott@depauw.edu or 765-658-4336.
KSWERIFOR, 2019
plastic mattress bags, Rust-Oleum invented marking paint, magnets props.
Size: Full

A Lecture with Artist
Keith Allyn Spencer
Thursday, October 25, 2018, 4:15pm
Peeler Art Center, Visual Arts Gallery

Join us for a lecture with artist Keith Allyn Spencer. Refreshments will be served following the event.



Joel Ross
Room 28, 1997
installation: vintage suitcases, found material
approximately 60 x 40 x 40 inches
(152.4 x 101.6 x 101.6 cm)
Collection of the James Hotel, Chicago
Courtesy of the artist and Monique Meloche Gallery, Chicago
© Joel Ross
Photo: Nathan Keay

Percussion @ Peeler
Friday, October 26, 2018, 6:30pm
Peeler Art Center, University Gallery (lower level)

The DePauw Percussion Ensemble presents its annual program of contemporary solo and chamber works for percussion, composed and improvised, in a non-traditional concert setting. Directed by Dr. Ming Hui-Kuo, the one-hour performance fuses contemporary art and music in the galleries at Peeler.

Works by John Cage, Andrew Beall, Eugene Novotney, Rober Paterson, Gene Koshinsky, Mark Glentworth, and Steve Reich.

Refreshments will be served following the event.

Walead Beshty
Fedex 25kg Box, FedEx 149802 REV 9/06 MP, International Priority Los Angeles to Hounslow (Tracking No. 797888625860), February 12, 2014, International Priority London to Orlando (Tracking No. 779899570239), August 14-21, 2017, 2006-17
laminated mirrorpane, FedEx shipping box
25-3/4 x 22 x 17-5/16 inches
(65.5 x 56 x 44 cm)
Collection of modern Forms, London
©Walead Beshty
Image courtesy of the Orlando Museum of Art

Art & Horizons: Baggage Claims Gallery Tour
Tuesday, October 30, 2018, 11:40am


Join curators Alexandra Chamberlain and Craig Hadley as the discuss artists and artworks in Baggage Claims and their relationships to ArtsFest: Art & Horizons. Refreshments will be served following the event.

Kathleen Vance
Traveling Landscape (long, black Case), 2012
found case, AQUA RESIN, natural fiber, artificial foliage, fluorescent light, water
12 x 38 x 14 inches
(30.5 x 96.5 x 35.6 cm)
Courtesy of the artist and ROCKELMANN &, Berlin
© Kathleen Vance
Image courtesy of the artist and ROCKELMANN &

Halloween Family Scavenger Hunt
TBA
Peeler lobby

Join us on Halloween for a night of fun (and maybe just a few treats) for the whole family! During trick or treating hours, the Peeler Art Center galleries will be open for all family members to partake in a scavenger hunt through the artwork on display. Free and open to the public, this event is part of ArtsFest 2018: Art & Horizons.






(detail) Fist Pump
plastic party acrylic paint with
plastic party table covers and
plastic party painting tarps
Size: XXXL, 1981

Yoga@Peeler
Monday, November 19, 2018, 7:30pm
Peeler Art Center, Visual Arts Gallery

Join instructor Marla Helton of Serendipity Yoga Studio for an hour-long session of relaxation yoga i the Peeler Art Center galleries. For more information visit marlaheltonyoga.com or contact Marla directly: marlaheltonyoga@gmail.com

This event is free to all DePauw University students, faculty, and staff. Props will be provided.