Spring 2019 Events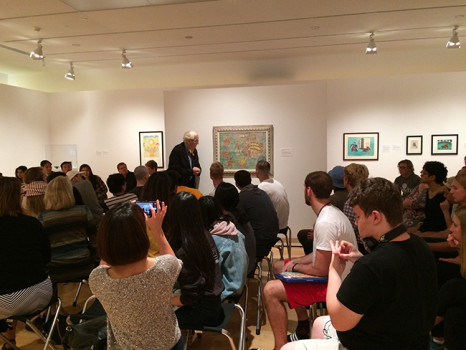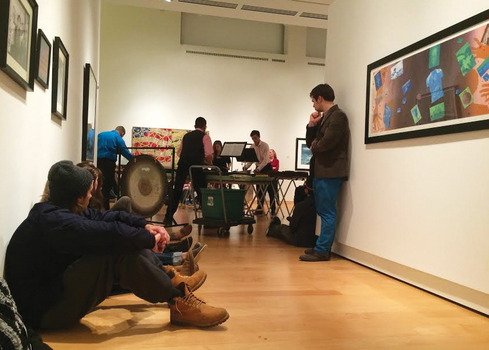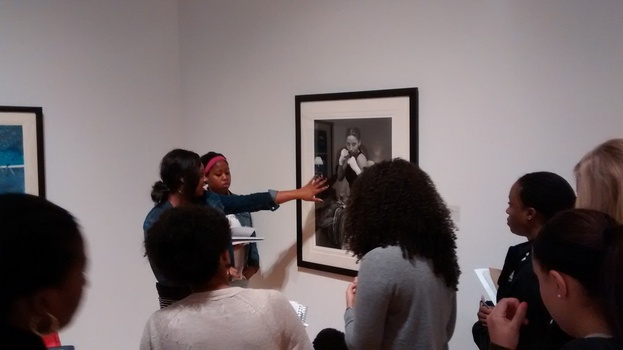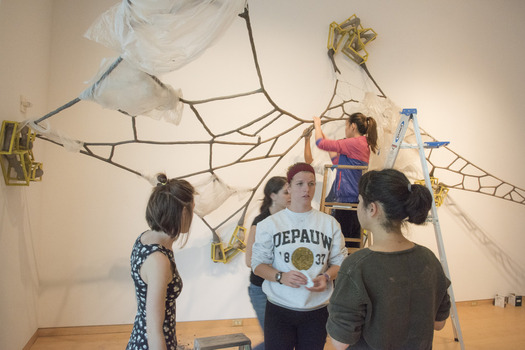 The Peeler Art Center galleries are proud to present a variety of free programs for students, faculty, staff, and the public each year. These events range from workshops and hands-on demonstrations to lectures and performances. All events are free and open to the public unless otherwise noted. For more information about a particular event, including special accommodations, please contact Misti Scott: mscott@depauw.edu or 765-658-4336.
Opening Reception for House Life Project
Thursday, March 7, 2019, 4:15pm
Peeler Art Center, Visual Arts Gallery

From 2015 through 2017, the House Life Project (HLP) reimagined abandoned houses on Indianapolis's Near Eastside as hubs for artistic practice and community collaboration. It was a flexible and collaborative project where artists and neighbors formed new relationships, strengthened existing ones, and pooled their creativity in order to examine tough questions related to the changing neighborhood. We're Open, Come In: The House Life Project transforms the gallery into an inclusive and welcoming space that invites visitors to learn about the HLP, its methods, and its community. Through an array of artworks and interactive installations, the exhibition will spark conversations about neighborliness, housing inequity, and the ways in which art can and can't facilitate social justice.

Join us for a gallery talk with Meredith Brickell and Laura Holzman. Light refreshments will be served following the event.






VOCAB: Spoken Word Performance and Workshop
Monday, March 11, 2019, 7-9pm
Peeler Art Center, Visual Arts Gallery

VOCAB is an Indianapolis-based poetry, spoken word, and music project where art and activism meet. For 12 years, VOCAB has created spaces that focus on centering the voice of the marginalized, especially the POC and Queer community. During their visit to DePauw, VOCAB artists will first perform in the gallery and then offer a spoken word workshop and open mic session that will allow people to share their talent, speak their truth, and give voice to their story.

Panel Discussion for House Life Project
Monday, March 18, 2019, 4:15pm

Panelists will discuss the ways that the House Life Project's creative, collaborative, and interdisciplinary approach to community engagement relates to liberal arts education.

Moderator: Danicia Malone, HLP program facilitator, Program and Facility Manager of the Purdue Black Cultural Center

Panelists:

Meredith Brickell, HLP founder and project leader, Associate Professor of Art and Art History at DePauw University

Laura Holzman, HLP curator, Associate Professor of Art History and Museum Studies at IUPUI

Katy Renn, former director of Renew Indianapolis, the land bank that worked in partnership with the HLP, DePauw alumna (Political Science)

Coralyn Turentine, HLP artist and former Director of Neighborhood Engagement at Boner Center on the Near Eastside in Indianapolis, DP alumna (Sociology)

Yoga @ Peeler
Monday, March 18, 2019, 7:30pm
Peeler Art Center, University Gallery (lower level)

Join instructor Marla Helton of Serendipity Yoga Studio for an hour-long session of relaxation yoga in the Peeler Art Center galleries. For more information visit marlaheltonyoga.com or contact Marla directly: marlaheltonyoga@gmail.com

Free and open to the public. Props will be provided.

Still from I am making art by John Baldessari, b&w, mono, 1971

Image copyright of the artist, courtesy of Video Data Bank at the School of the Art Institute of Chicago.

Gallery Discussion with Alum Zachary Vanes and Assistant Professor of Digital Art Logan Dandridge
Wednesday, March 20, 2019, 11:40am
Peeler Art Center, Auditorium

Join Zachary Vanes '13 and Assistant Professor of Digital Art, Logan Dandridge, as we discuss works in the current exhibition: Repeat, Repeat. Each of our visiting gallery guides will focus on one to two works from the exhibit to examine the history of video as fine art.

Virtual Reality Demonstration in Constructed Landscapes
Wednesday, April 10, 11:40am
Peeler Art Center, University Gallery (lower level)

In this interactive exhibit, designed by an interdisciplinary team at DePauw University, the viewer is invited to augment historical Japanese landscapes by applying emotional transformations to create novel works that are constructed from an existing painting. This allows viewers to express a part of their "inner essence" through the newly enhanced landscape.

Join us for brief talks from the team who made this interactive exhibition possible and try out the VR environment yourself. Refreshments will be provided following the event.

Student Team:

Keisuke Ohtani, DePauw Class of 2019, Lead Designer and Programmer, Computer Science Major, ITAP Associate
Jinzhi Qin, DePauw Class of 2021, Studio Art and Communication Double Major, ITAP Associate

Advisors:

David Berque, Professor of Computer Science
Michael Boyles, Director of the Tenzer Technology Center
Hiroko Chiba, Professor of Modern Languages (Japanese)
Pauline Ota, Associate Professor of Art and Art History (History of Japanese Art)

Free and open to the public.

Senior Art Exhibition: Artist Talks and Opening Reception
Friday, April 19, 5pm
Peeler Art Center, Visual Arts Gallery

Join us for the senior studio art talks and opening reception.

Free and open to the public. Refreshments will be provided.