Lupe Fiasco Performs at DePauw Saturday Night
October 30, 2007
October 30, 2007, Greencastle, Ind. - Hip-hop artist Lupe Fiasco, whose debut album received three 2007 Grammy nominations, will come to the campus of DePauw University on Saturday, November 3. Tickets for the concert, which begins at 8 p.m. at the Lilly Center, are $10 for DePauw students and $15 for others. They're available in the Hub and at the Office of Multicultural Affairs and will be sold at the door of the concert.
"Without dipping his toes into violent imagery, wanton obscenity or other hip-hop cliches, Fiasco reflects on the personal and the political, and reminds fans of everything hip-hop can be," wrote Rolling Stone Evan Serpick in a review of Lupe Fiasco's Food & Liquor. "It's full of surprising, creative moments that recall Nas and Kanye West." Stylus magazine noted, "Lupe Fiasco may actually be a legitimate aspirant to hip-hop's lyrical inner circle," calling the Chicago-based artist "an absolutely dazzling emcee and a genuinely nuanced personality, and both of these things are incredibly rare in hip-hop in 2006. Even compared to Kanye -- the star who first put him on the map and who's managed to build a cottage industry on a similar persona of conflicted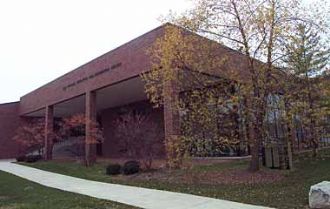 consciousness -- Lupe is still more naturally believable and compelling."
Read more at All Music Guide.
Saturday's concert is presented by Union Board. For information, call (765) 658-4850.
DePauw has a history of hosting concerts by influential popular musicians. Recent visitors have included the Black Eyed Peas, Jack's Mannequin, Ben Folds, The Roots, Howie Day, Ben Kweller and Rufus Wainwright. Past guests such as Smokey Robinson and the Miracles, Dave Matthews, Billy Joel, The Byrds, America, The Carpenters and The Temptations have also performed on campus.
Back