"Run Towards Justice," Vernon Jordan '57 Tells Syracuse University Graduates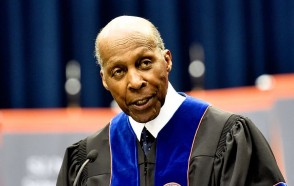 May 14, 2017
"Whatever you do, run towards justice," civil rights legend Vernon Jordan told graduates at Syracuse University's commencement today. "Run into the fire. Because the fight for justice is not a sprint or even a marathon, but a relay race in which your generation now has the baton. It is up to you to protect the progress we have made and advance that progress into the future." (photo by Dennis Nett/Syracuse Post-Standard)
Jordan, a 1957 graduate of DePauw University, delivered the primary address to Syracuse's approximately 6,500 graduates.
The speech was covered by the Syracuse Post-Standard and the story is available here.
Vernon E. Jordan Jr. is a senior managing director of Lazard Frères & Co. LLC (NYSE: LAZ), and is senior counsel with the Washington, D.C.-based law firm of Akin Gump Strauss Hauer & Feld LLP. He is the former executive director of the United Negro College Fund,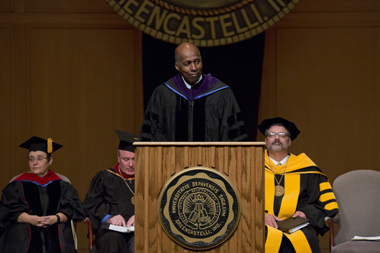 former president of the National Urban League, and has been a longtime adviser to President Bill Clinton.
A political science major as an undergraduate, Jordan is an advisory member of DePauw's Board of Trustees and has twice presented the commencement address at his alma mater, in 1973 and 1993. In December 2009, he was one of eight individuals presented with the Du Bois Medal, the highest honor awarded by the Harvard University Institute of Politics' W.E.B. Du Bois Institute. His other numerous awards include the Spingarn Medal, the NAACP's highest honor for achievement, and the Trumpet Award. In 2014 he received The American Lawyer magazine's Lifetime Achievement Award.
Last October, Jordan returned to campus to deliver the keynote address at the inauguration of DePauw's twentieth president, D. Mark McCoy. The remarks were presented as part of the Timothy and Sharon Ubben Lecture Series, and are embedded below.
Source: Syracuse (N.Y.) Post-Standard
Back