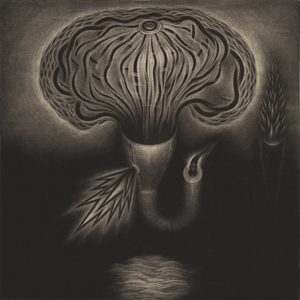 Sean Caulfield
Night Cloud, 2008
Mezzotint and chine collé
DARKFIRE AND THE WAITING ROOM
AUGUST 28 – SEPTEMBER 29, 2013
Peeler Art Center, University Gallery (upper level)
This exhibition consists of two related interdisciplinary and collaborative artist's books, Darkfire and The Waiting Room, which explore the interface of visual art, design and creative writing. Each of these works is an unbound portfolio consisting prints by Sean Caulfield, accompanied by poems written by Jonathan Hart, with Susan Colberg designing a book consisting of a title page, text layout, colophon, and portfolio box. The exhibition is made up of a total 25 images and 25 pages of text with two title pages and two colophons.
To initiate Darkfire and The Waiting Room, Caulfield, Hart and Colberg used themes and poetic images taken from Dante's Inferno and Purgatory as a common start for each of their image/text pairings The intention was not to illustrate Inferno/Purgatory in the traditional sense, but rather to use it as a motivation from which they could find common formal and conceptual inspiration.
Although the work looks to the past for inspiration, its merging of mechanistic and organic languages is intended to point viewers towards a contemporary context in which advancements in technology are rapidly changing our relationship to the natural world, biology, and our own bodies. In a broad sense, then, these artist's books are intended to encourage individuals to engage in reflection and dialogue about the changing environments of our daily lives.