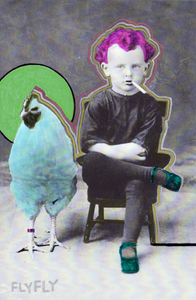 Absent Minded Professor
From the Series, Relatively Polite Vandalism, 2013
Altered public domain photograph, circa 1920


DOGS OF DOUBTFUL ORIGIN
October 29 – DECEMBER 15, 2013
Peeler Art Center, Visual Arts Gallery
In a quirky spin on the traditional sabbatical exhibition, sculpture professor Lori Miles invites six of her former students, all recent MFA recipients, to create a massive, collaborative exhibition. Though sparked by themes central to Miles' own work, the exhibit will be conceived, designed, and executed by all six artists collectively. Overtly exploring the vertical exchange of information from teacher to student, this project also delves deeply into horizontal knowledge; those cultural memes that spread laterally through transfer, imitation, and replication. Dogs of Doubtful Origin refers both to an incorrect research loop referenced by cryptozoologists and to the ambiguous artistic ownership of the exhibit itself.
The exhibition space will be open during installation and construction phases, turning the gallery into an artistic laboratory that pulls back the curtain on the creative process.
Featuring Associate Professor Lori Miles, Jacob Stanley (05), Mike Treffehn (06), Dan Solberg (06), Matt Kalasky (08), Travis LaMothe (09), and Ryan Blackwell (09).
Support for this exhibition was generously provided by: President Casey, POC, the Department of Art/Art History, and the Anne Prindle Johnson and David S. Johnson Speaker Fund at the Janet Prindle Institute for Ethics.
A Downloadable Timeline from the Artists's for Dogs of Doubtful Origin: