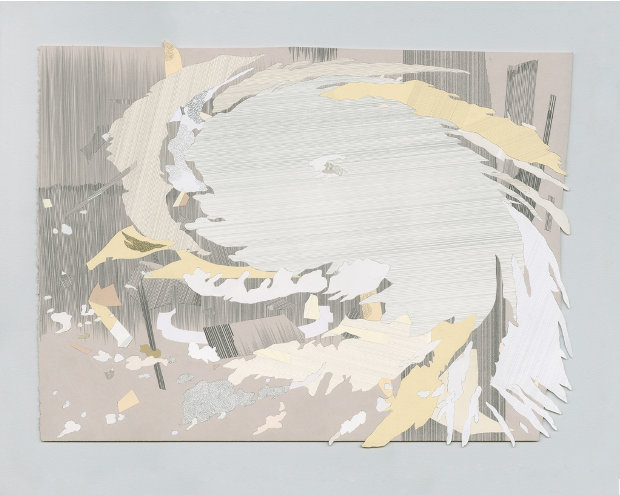 Mark Rospenda
Untitled (Forecast), 2017 - 2023
Graphite, cut paper inlay, tape
16-1/2 x 21-3/4

Mark Rospenda: Filter Feeder
August 28 - December 8, 2023
Peeler Art Center, University Gallery (upper level)

While many varieties exist, some filter feeders are immobile ocean organisms that filter particles of food from the currents that move through and around them (the artist's favorites are sea fans). Instead of having the agency to actively seek sources of food, they must wait for it to be brought to them.
Human experience of images is similar to how these organisms obtain sustenance. We do not ask to be immersed in images, and yet they are constantly washing through and over us. And those images, in turn, become a part of what we understand and believe.
However, it seems that with increasing frequency we see things that exist outside of the structural framework we have constructed to understand our experiences. Whether publicly shared or in private, these are the moments that make us tell others that what we saw "felt like a movie." Disassociated from what feels real, these outliers make us reevaluate our understanding of a sane and rational world—coming through like a hurricane, tearing down the structures of understanding that we've built to make sense of the senseless.
This exhibition of drawings and paper sculptures is a self portrait of the artist as a poetic representation of knowledge and belief—and questions how those rickety structures will hold up to moments that threaten to shake us to the core.


Artist Bio:

Mark Rospenda's meticulous nature always presents itself through his work. Using paper as a means of exploring the delicate, mutable nature of our thinking processes, he physically cuts into, shreds, and converts his drawings into pulp. Parts and elements are exchanged between works with some evolving over a number of years. The images that result are moments within a stream of thinking and forgetting—records of memories lost, found and transforming. His work has been exhibited at the Spartanburg Art Museum, Spartanburg, SC; DEMO Project, Springfield, IL; Herron Galleries, Indianapolis, IN; and other locations nationally. As the winner of the Director's Choice Award in the 2016 Art From the Heartland exhibition, he was granted a solo exhibition at the Indianapolis Art Center, Indianapolis, IN, in 2019. From 2011–2022 he was Curator at the South Bend Museum of Art, where he organized and oversaw more than 125 exhibitions. Since 2021, his artwork has been included in the White Columns Curated Artist Registry. Rospenda lives and works in South Bend, IN, where he is Adjunct Faculty in Fine Arts at Indiana University - South Bend.
You can learn more about Rospenda and his work at markrospenda.com.
Artist Talk: Mark Rospenda
Thursday, October 5, 2023 7:00 to 8:00 EDT
Peeler Art Center, Auditorium