John Kerry "Really Has Only One Chance to Win," Says Prof. Ken Bode
September 24, 2004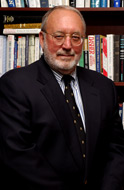 September 24, 2004, Greencastle, Ind. - Ken Bode, Eugene S. Pulliam Distinguished Visiting Professor of Journalism at DePauw University, previews September 30's first presidential debate today in his weekly op-ed in the Indianapolis Star. Bode notes that both President George W. Bush, and his opponent, John Kerry, "have winning records on the debate stage," and recalls Kerry's experiences debating former Massachusetts Governor William Weld, who challenged Kerry's U.S. Senate seat.
"For the final Kerry-Weld encounter in Boston's Fanueil Hall, I stood between the two men as moderator, forking over the questions," Dr. Bode, former CNN senior political analyst, writes. "Looking at that videotape today, I cannot say who won. I do know, however, that Kerry exhibited some debating traits that will not play well outside Boston. At one point he dismissed a Weld charge, saying, 'You don't know what you're talking about.' He compared the governor's record on crime to Inspector Clouseau. And while Weld spoke, Kerry repeatedly interrupted, chanting, 'There we go. There we go.'"

As he prepares for the debates with President Bush, the professor says, "Kerry must use these debates to make Americans like him, and if he seems insulting, dismissive or arrogant, he will lose the undecided voters, the debates and the election. Indeed, Kerry really has only one chance to win. In the upcoming debate on national security, he must make this the central question: How would the world be different today had America sought, found and captured Osama bin Laden instead of Saddam Hussein?"
Bode points out, "Ambassador Paul Bremer III is on a speaking tour that last week included DePauw University. Mostly, Bremer echoed the administration line on Iraq. But this is how he characterized the country he administered: The economy was decimated and the banking system closed. Income levels were about the same as the Congo. There was no 9/11 connection and no WMDs. Finally, at the end of 2002, the regime was collapsing anyway. If you believe Bremer, why did we invade Iraq? Why not continue to isolate Saddam and watch him implode? Would America not be safer today if we had not squandered $200 billion in treasure, more than a thousand American lives and
countless Iraqi casualties to overthrow a crumbling dictatorship that proved to be no real threat to America? If the administration had used its worldwide support post-9/11 to build alliances and our military power to find Osama and root out al-Qaida, how much better off might we be today? That's the case John Kerry must make."
Read the complete essay by clicking here. Ken Bode's other recent columns can be accessed by clicking here, here, here, here, here, here, here, here, here and here.
Earlier this week, Bode appeared on MSNBC's Hardball with Chris Matthews to discuss the controversy at CBS. Read more, and access video and audio clips, here.
Back