Ken Owen '82 Visits This Week's Inside Indiana Business TV Show
November 9, 2017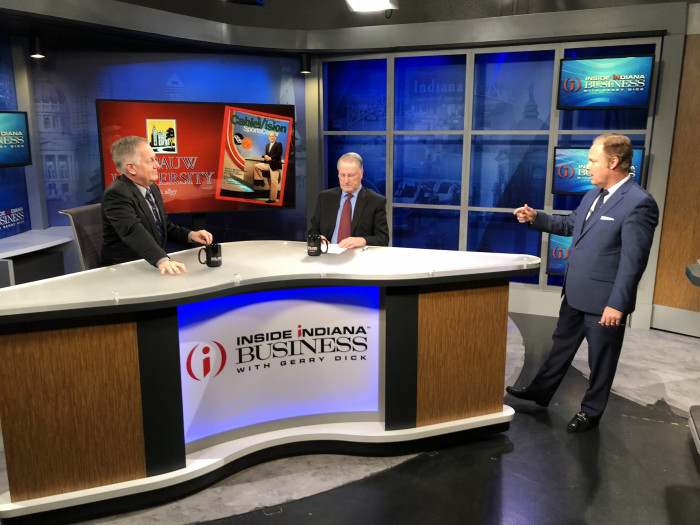 This week's edition of the statewide television program Inside Indiana with Gerry Dick will include a segment featuring ESPN founder Bill Rasmussen and Ken Owen '82, special adviser to the president at DePauw University. (photo: Owen, Benner and Dick chat before the segment)
Owen will talk with Indiana Sportswriters and Sportscasters Hall of Fame inductee Bill Benner about Rasmussen's week-long visit to DePauw, which included much discussion on the future of cable and satellite broadcasters in an environment of consumer cord-cutting, declining revenues, and increased streaming of video. The piece includes clips of Rasmussen on campus.
The show airs on stations around the state of Indiana; a list of affiliates and showtimes is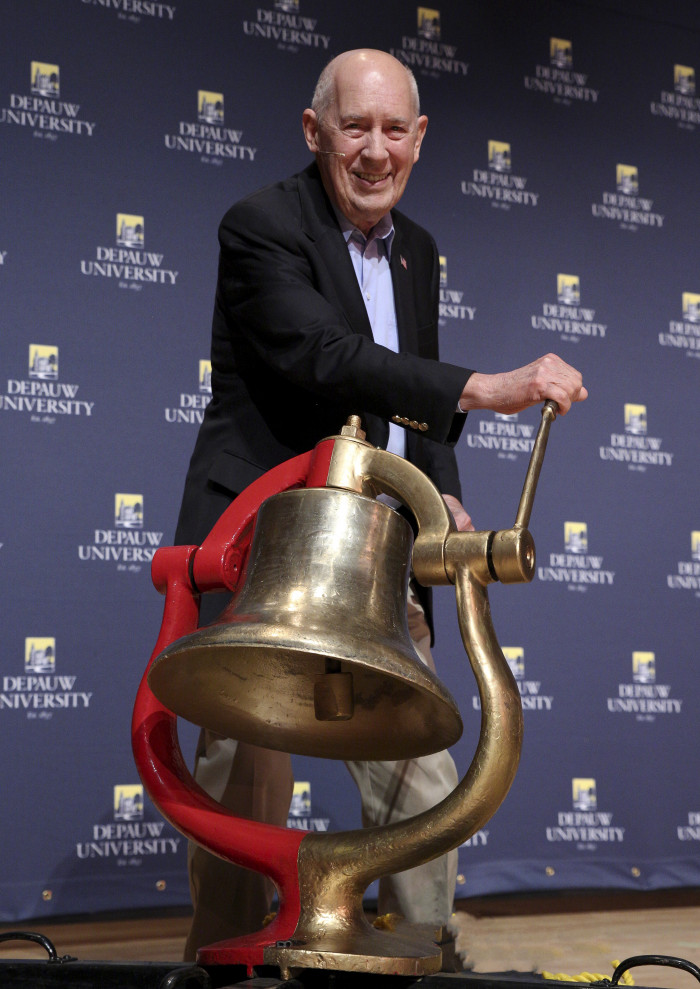 available here.
Rasmussen has been at his alma mater for a residency that began Monday and continues through the weekend. The pioneering broadcast entrepreneur spent time with DePauw students individually and in groups, including sessions with Media Fellows, Management Fellows, and Rector Scholars. Wednesday night he presented an Ubben Lecture, "Finding Your Passion, Realizing Your Dream," which was moderated by Owen.
Bill Rasmussen has been called "the George Washington of ESPN" (by longtime anchor Chris Berman) and "a guy whose idea gave birth to, arguably, the most successful media story of our time" (by Jim Miller, co-author of the best-selling book, Those Guys Have All the Fun: Inside the World of ESPN).
ESPN began broadcasting on September 7, 1979 -- 14 months after Rasmussen and his son Scott, a 1986 DePauw graduate, brainstormed the idea of an around-the-clock sports network. Thirty-eight years later, ESPN is ranked #32 on Forbes' list of the world's most valuable brands with a brand value of $15.8 billion. The network originally reached 1.4 million customers; now it has approximately 90 million subscribers.
A 1982 graduate of DePauw, Ken Owen returned to his alma mater (where he was a communication major and Rector Scholar) in 2001 after two decades in TV news. Along with his responsibilities to raise the University's external visibility, he coordinates the Timothy and Sharon Ubben Lecture Series and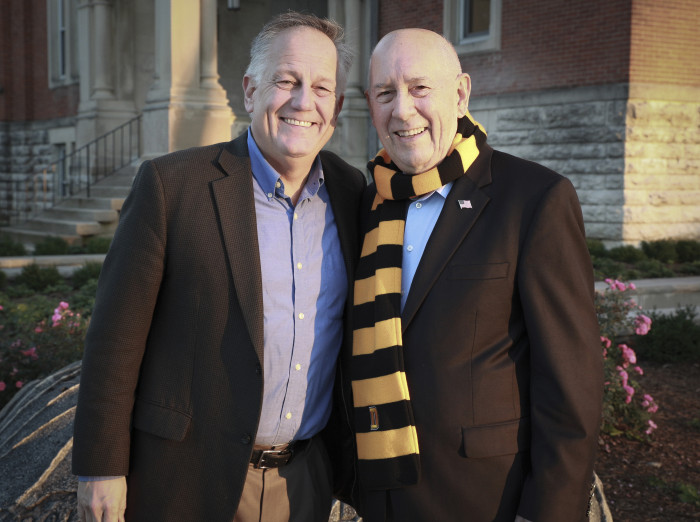 the annual Monon Bell telecast. Owen regularly appears as a media spokesman for DePauw and as a source for stories (he was interviewed on Fox News Channel October 1, 2016) and has moderated two televised Indiana debates, most recently leading the October 2016 U.S. Senate debate, which aired live nationally on C-SPAN. (Owen and Rasmussen at the Boulder; November 6, 2017)
Owen's efforts to make pieces of DePauw's past more relevant and accessible include the restoration of a 1941 admission film, and he has created "Monon Memories" of every football game between DePauw and Wabash College for the Monon Bell since the rivalry began in 1890. The video vignettes were the subject of features in the Chronicle of Higher Education and during HDNet's telecast of the 115th Monon Bell Classic in November 2008.
Source: Inside Indiana Business
Back