TV Documentary Producer Matilda Bode Here Thursday
March 12, 2006
March 12, 2006, Greencastle, Ind. - Matilda Bode -- senior associate producer at Washington, DC-based Team Productions -- whose work includes a recent History Channel documentary on former President Nixon, will come to DePauw University on Thursday, March 16. Bode will discuss "Nixon: A Presidency Revealed (Rough Cut)" in a Gertrude and G.D. Crain Jr. Lecture. The program will begin at 4:15 p.m. in the Pulliam Center for Contemporary Media's Watson Forum and is free and open to all.
Matilda Bode served as senior associate producer of the acclaimed television documentaries Nixon: A Presidency Revealed and FDR: A Presidency Revealed. She has also worked on a number of programs for PBS: as senior associate producer on Moneywise with Kelvin Boston; associate producer of NOW with Bill Moyers: Rich World, Poor Women,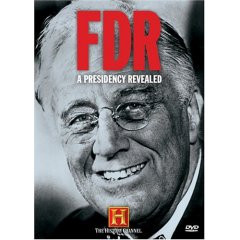 Frontline: Missile Wars and Bill Moyers Reports: Trading Democracy; was a researcher for PBS' Watergate Plus 30: Shadow of History; and served as a production associate on Trade Secrets: A Moyers Report. The latter three programs were nominated for Emmy Awards, with Watergate Plus 30 (2004) and Trade Secrets (2002) winning Emmys.
A cum laude graduate of Kenyon College, Ms. Bode has traveled extensively through Central America and since June 2005 has taught English as a Second Language classes at the Sacred Heart Adult Education Center in the nation's capital. At DePauw, she will engage in a discussion with Ken Bode, Eugene S. Pulliam Distinguished Visiting Professor of Journalism and veteran network news reporter -- who happens to be her father -- and will accept questions from the audience.
Endowed by Rance Crain, president of Crain Communications and a member of DePauw's Class of 1960, The Gertrude and G.D. Crain Jr. Lecture Series honors Mr. Crain's parents. Previous Crain Lecturers have included: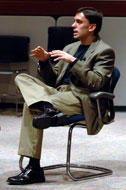 New Orleans-based journalist Clancy DuBos; Wall Street Journal reporter and 1996 DePauw graduate Aaron Lucchetti (pictured at left), who discussed his experiences covering Hurricane Katrina; award-winning reporter Jerry Mitchell and civil rights activist Rita Bender, the widow of slain civil rights worker Michael Schwerner; Adam Clymer, retired chief Washington correspondent for the New York Times; Samantha Power, author of A Problem from Hell: America and the Age of Genocide; Emily Wax, Africa Bureau Chief of the Washington Post, and her husband, Raymond Thibodeaux, who also covers the region for Cox News, Voice of America and the Boston Globe; Father Richard P. McBrien, Crowley-O'Brien Professor of Theology at the University of Notre Dame and a consultant to ABC News for papal events; political analyst Charlie Cook; FactCheck.org director Brooks Jackson; veteran political columnist Jack Germond; military sociologist Charles Moskos; historian Douglas Brinkley, author of Tour of Duty: John Kerry and the Vietnam War; David A. Keene, chairman of the American Conservative Union; and Joe Trippi, who managed Howard Dean's presidential campaign.
Back