Vernon Jordan '57 to Keynote Ohio Legislative Black Caucus Convention
July 10, 2016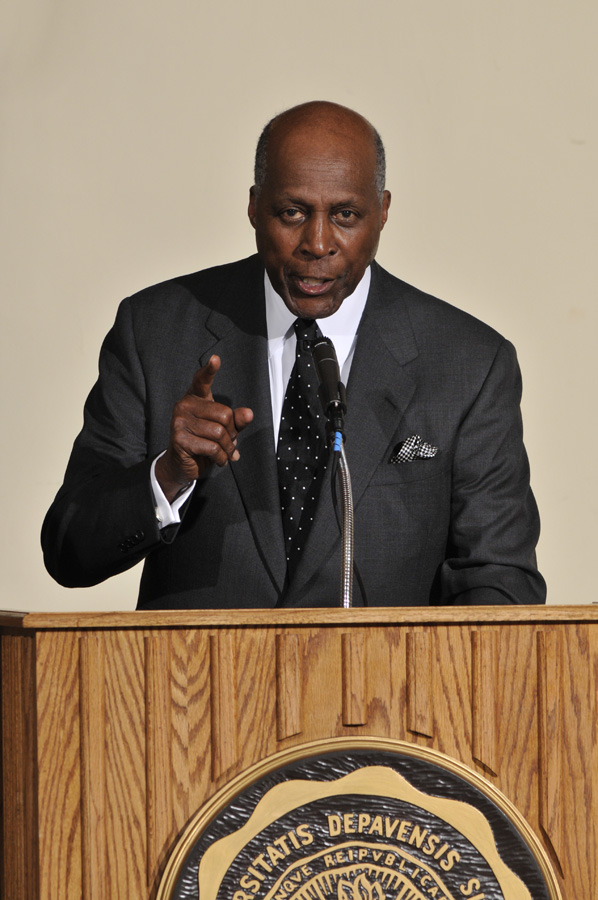 "A nationally known civil rights leader and former top adviser to President Bill Clinton is scheduled to speak at a convention for African-American Ohio lawmakers," reports the Cincinnati Enquirer. "Vernon Jordan will be the keynote speaker during the Ohio Legislative Black Caucus convention gala at 7:30 p.m. July 16 in the Duke Energy Convention Center."
A 1957 graduate of DePauw University, "Jordan, 80, has been a national force in business and politics," writes Jason Williams. "The former head of the National Urban League and United Negro College Fund, Jordan once simultaneously served on the boards of 10 major corporations and institutions, including American Express and Xerox. The attorney also served on an advisory board that helped launch the National Underground Railroad Freedom Center at The Banks. Harvard University professor Henry Louis Gates Jr. called Jordan 'the Rosa Parks of Wall Street,' according to Bloomberg, for leading efforts to integrate corporate boardrooms.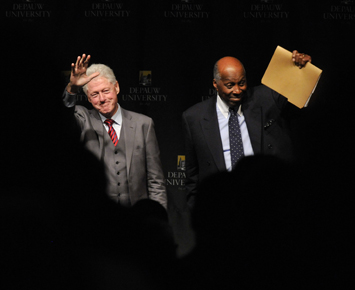 "This is huge for us," said Ohio State Rep. Alicia Reece, who is caucus president. "He runs the gamut, 360 degrees of knowing about issues facing the black community." (at left: Clinton and Jordan at DePauw in November 2011)
Access the story -- headlined "Bill Clinton's 'First Friend' coming to Cincinnati" -- at the newspaper's website.
A political science major as an undergraduate, Vernon E. Jordan Jr. is senior managing director of Lazard Frères & Co. LLC and senior counsel at Akin Gump Strauss Hauer & Feld, LLP. Jordan has twice presented the commencement address at his alma mater, in 1973 and 1993.
In December 2009, he was one of eight individuals presented with the Du Bois Medal, the highest honor awarded by the Harvard University Institute of Politics' W.E.B. Du Bois Institute. He's also been honored
with the Spingarn Medal, the NAACP's highest honor for achievement, and the Trumpet Award. In 2014 he received The American Lawyer magazine's Lifetime Achievement Award. and last year accepted the Fred L. Shuttlesworth Human Rights Award from the Birmingham Civil Rights Institute.
In May, Jordan was on hand as President Barack Obama was presented an honorary doctorate at Howard University.
On November 18, 2011, Vernon Jordan introduced Bill Clinton as the former president delivered DePauw's 25th anniversary Ubben Lecture. A summary of the event can be accessed here; video of the introduction is embedded below.
Back