Morning Joe Co-Hosts Discuss Civility and Fairness in DePauw Discourse Keynote Address
September 24, 2010
September 24, 2010, Greencastle, Ind. —

[Download Video: "The Wrong Idea" - 1112kb] "There are so many young people that are going into the media thinking that you've got to hate, that you've gotta scream, that you've got to exaggerate the issues, that you've got to make the other side the bad guy," Joe Scarborough of the MSNBC program Morning Joe said at DePauw University tonight. Appearing with his co-host, Mika Brzezinski, Scarborough asserted, "And I can tell you that's not how you draw viewers.
Tonight's program, which was made possible by the G.D. and Gertrude R. Crain Lecture Series, was the culmination of two days of DePauw Discourse sessions examining the theme,

"Peril or Promise? Journalism in the New Media Age." The conversations involved a wide range of DePauw alumni working in journalism, faculty members, students and others. More information on the programs and presenters may be accessed here.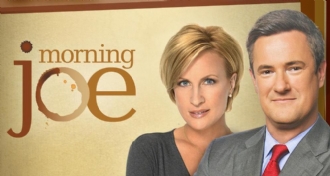 Scarborough served eight years in the U.S. House of Representatives. His initial election to Florida's First District seat in 1994 made him the first Republican since 1872 to represent the district. In 1999 Scarborough founded and published the award-winning newspaper, the Florida Sun. He hosted Scarborough Country on MSNBC before creating his current venture three years ago.
Brzezinski joined MSNBC in January 2007 after serving as an anchor of the CBS Evening News weekend edition and as a correspondent who frequently contributed to CBS Sunday Morning and 60 Minutes. Brzezinski is the daughter of former national security adviser Zbigniew Brzezinski, who visited DePauw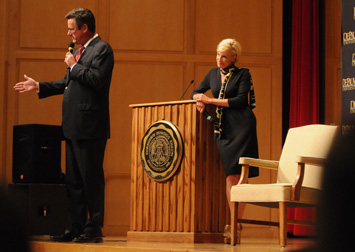 in March 1998.

[Download Video: "Civility" - 826kb] "We only have one rule on our set," Scarborough offered, "and that is, be civil. Let people talk. Respect those with whom you disagree." Turning to his co-host, a Democrat, he added, "Now we debate -- I, especially, debate, but she's a Marxist. What do you expect me to do, just sit there and take it?," he said to laughter from the audience.

[Download Video: "Transparency is Key" - 886kb] "I can't erase my past, nor can Joe," Brzezinski told Discourse attendees. "So what we'd rather do is bring it to the table and work with it. Instead of pretending it doesn't exist and be this person just talking on television -- this lonely voice out of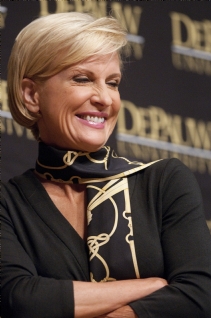 nowhere with no opinions? I don't want to hear that, actually at this point. I'm not even interested. I'd rather hear from someone with a little texture and someone who's not afraid to be wrong once in awhile, and evolve together."
Brzezinski's experiences in journalism have her convinced that most reporters, like her, lean toward the Democratic Party.

[Download Video: "Finding Balance" - 1009kb] "The media struggles and I think that there is more trouble in an organization that perhaps doesn't have a broad base of views and voices, but claims to be objective. It's just impossible. They can try as much as they want but if you don't have a mix of views putting the story together ... bias is going to sneak in. It's going to happen," she declared.
The current mood of the country is disconcerting to the broadcasters, with Scarborough asking,

[Download Video: "The Cycle" - 1629kb] "Why are Republicans right now so angry with Barack Obama? There are a lot of different reasons. But for many, especially in the media, it's payback time. Because that's Democrats did to George W. Bush for 8 years. And what did we hear from Democrats on why they were going after George W. Bush? 'Well, that's what you guys did to Bill Clinton.' I've heard it. I've heard it in politics non-stop, I've heard it in media non-stop, and the bottom line is we have got to break this cycle."
Just yesterday, former President Clinton visited Morning Joe. Scarborough, who voted to impeach Clinton while a congressman, told his DePauw audience,

[Download Video: "Focusing on Today" - 1344kb] "I was talking to the president about what he's doing in his initiative but also what Barack Obama is not doing
to get America back to work. And we had a fascinating discussion. And then I get hammered by conservatives all day in e-mails wondering why I didn't bring up Monica Lewinsky. Seriously? You're interested what happened there in 1999 instead of trying to figure out how we get the economy started again in 2010?"
Scarborough also pondered,

[Download Video: "Cheering Against America" - 1602kb] "When did we exactly start rooting against the president? I like Rush (Limbaugh). But you can't root against the president without rooting against the United States of America, because the only way the president fails is if the United States of America fails," he stated to applause. "And let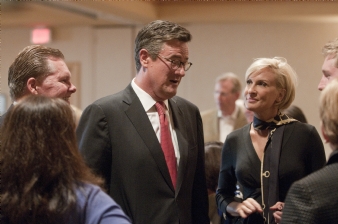 me tell you something -- I am a Republican, I'm a small government conservative. But I'm an American first. And we need to hold our leaders accountable, you know, that's where it starts ... calling out the hate on both sides."
"This is no way to run a republic," Scarborough added. "This is no way to stay competitive globally. The Chinese are working together while we are fighting ourselves ... We are at a pivotal place in our history and Americans are tired of this fighting." (at right: Scarborough and Brzezinski dined with Discourse attendees at The Inn at DePauw before their speech)
Demonstrating the civility in discourse that he'd espoused, while discussing the challenges facing America's inner-city schools, Scarborough asserted,

[Download Video: "Praise for the Prez" - 1733kb] "Let's hope there's a change, and I've been critical of President Obama -- let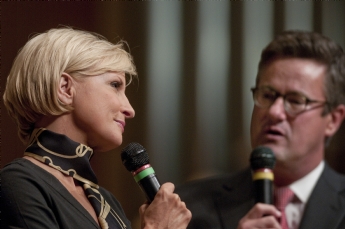 me say right now: Barack Obama on education reform is forward-thinking, he is progressive, he is not reactionary like many of his allies are, he wants to change things. Arne Duncan, the secretary of education, magnificent. These people together can work with people like Michael Bloomberg in New York, who is not knocking at the doors, he's kicking the doors down. We can have independents, Democrats and Republicans getting together. The next 2 or 3 years, all educators know, it's our chance."
The two morning hosts were asked what tools tomorrow's information gatherers and disseminators will need. Scarborough stressed writing, while Brzezinski noted that cutbacks in newsrooms mean reporters must be nimble multi-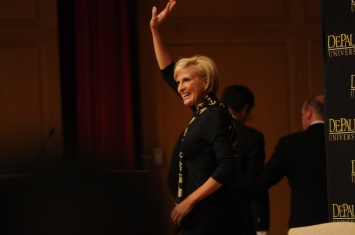 taskers. Write well, she agreed,

[Download Video: "Skill Set" - 1921kb] "Then learn to do it all in your head while you're shooting video, taking audio, editing, vetting and being the voice and face of your work .. You will be doing everything. There will not be any backup ... it will be you, and only you. And that leads to some piotential problems and potholes but it's also an exciting new world."
The evening began with some jabs at DePauw's Monon Bell rival, Wabash College (Scarborough decided to wear a red tie, while Brzezinski's ensemble was more DePauw-appropriate), and warm words for the University's leader.

[Download Video: "The President" - 746kb]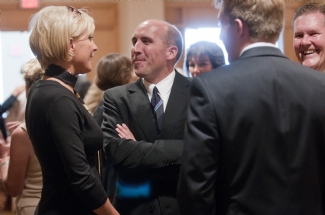 "I love the president," she said, with the audience assuming she was referencing Obama. Then Brzezinski added, "Oh, Brian," and the audience roared, realizing she was talking about DePauw President Brian W. Casey, who introduced the pair.

[Download Video: "The Evening Ends" - 691kb]
Established in 2004, DePauw Discourse is a symposium that brings some of the nation's leading thinkers, journalists and policymakers together with the University community. Previous participants have included: L. Paul Bremer, Madeleine Albright, Lee H. Hamilton '52, Vernon E. Jordan '57, Robert F. Kennedy Jr., Samantha Power, Bill McKibben, Roger Wilkins, Margaret Spellings, Wallace J. Nichols '89, Bob Herbert, Allan Hubbard, Paul Volcker and Allan Hubbard.
Back