Chiddy Bang to Headline October 28 Union Board Concert
October 14, 2011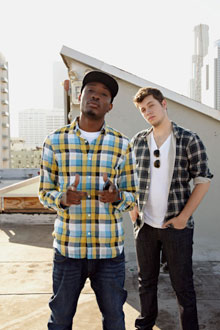 October 14, 2011, Greencastle, Ind. — The Philadelphia-based hip-hop duo Chiddy Bang will headline an Old Gold Weekend concert at DePauw University, which will also include performances by DJ L, Fedel, and Audiodax. Presented by Union Board, the evening of music will take place Friday, October 28, in Kresge Auditorium, located within DePauw's Green Center for the Performing Arts.
Tickets are $5 for DePauw students, faculty and staff with ID and $10 for others. They are available in the Hub (located within the Memorial Student Union) during the lunch and dinner hours through Thursday, October 27 (tickets will not be sold next week, which is fall break). Any remaining tickets will be sold at the door.
The music will begin at 6 p.m., when doors open, with entertainment by DJ L. At 7 p.m. Fedel will perform, followed by Audiodax. Chiddy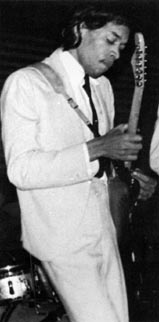 Bang will wrap up the program, which is expected to total approximately 2 1/2 hours of music.
Questions regarding the concert may be directed to dawnballard_2013@depauw.edu or alyssapilli_2012@depauw.edu.
DePauw has a history of hosting concerts by influential popular musicians. Recent visitors have included Third Eye Blind, Jack's Mannequin, the Black Eyed Peas, Mike Posner, Lupe Fiasco, Ben Folds, The Roots, Howie Day, Guster, Ben Kweller and Rufus Wainwright. Past guests such as Smokey Robinson and the Miracles, Dave Matthews, Harry Chapin, the Isley Brothers (with Jimi Hendrix; pictured at right performing on October 9, 1965, in DePauw's Bowman Gym), Psychedelic Furs, Pure Prairie League, Billy Joel, The Byrds, America, the Carpenters, Maynard Ferguson and the Temptations have also performed on campus. Additionally, singer/songwriter/producer Todd Rundgren presented an Ubben Lecture at DePauw in April 2009.
Back